~ shame on you! on tour .1
/ Yekaterinburg, July 6, 2021

. Spontaneous Thoughts on Yesterday's Performance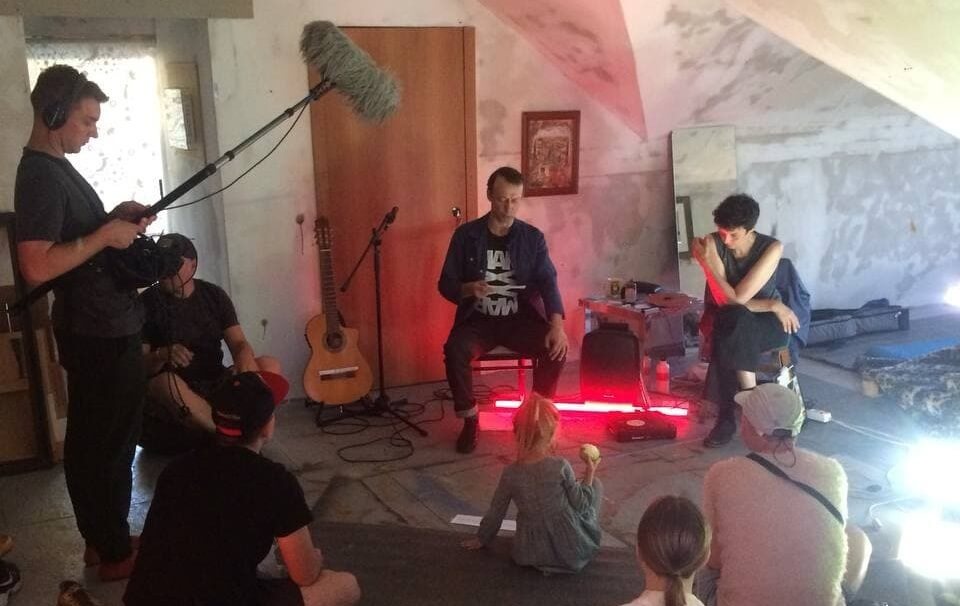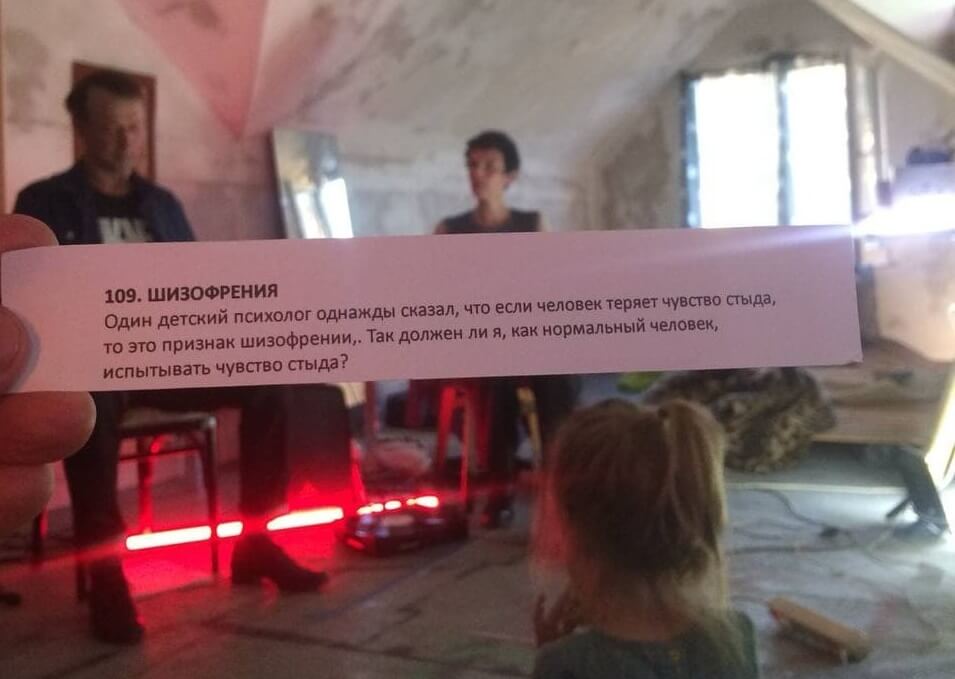 Yesterday was the world premiere of the performance schäm dich! / shame on you! The first performance took place at Dom na Moskovskaya, the collective garden of the Cherepanov family, which regularly hosts musical and artistic events. The friendly atmosphere is conducive for discussions, as happened yesterday after the premiere, we share Ilya Komarov's impressions of the first performance:


" Hi guys!

I'm going to take the second test and at the same time I'll tell you how everything went for us. Yesterday we arrived at the place for the first time, we were greeted well, and immediately given tea. We rehearsed a bit and went to taste Georgian cuisine. By evening, about 15 people had gathered. On the top floor, under the roof in the Cherepanovs' workshop, they organized a space for performances. At that time, there was a video team in the house, which was filming a film about the owners and their active creative life. At the same time, our performance was filmed. I read stories of shame, and people quickly got involved in the process: they began to share their thoughts and communicate with each other. The atmosphere was quite relaxed and the mood was clearly positive. Our performance lasted an hour and a half, we can say the world premiere was a success!

Then the discussions continued in the garden over a cup of tea. Many were inspired and shared their experience after the performance. We took our "shame phone" with us and there were a couple of people who wanted to retire with him and told their stories. This fact is very encouraging! People began to share and the very dialogue that we are looking for in the framework of the project arose. Everything went very nicely. Today we will go to the Metenkov House, I wonder what kind of people will gather there. Many at the performance were interested in how such a performance would take place in a different setting, a village, for example. I myself don't know how it will all be – it's interesting to look at the reaction, for example, of another age audience, what feelings and emotions the stories of shame we have collected will evoke in them. "
Photo: Nail Gilfanov
. Collective garden on Moskovskaya

The house in the collective garden on Moskovskaya is a living place and residence for artists and musicians. It is a workshop and an exhibition space where artists who come to Yekaterinburg can stop and organize their event.

The house is located in the southwestern region of Yekaterinburg, on a miraculously surviving collective "dacha" area between high-rise buildings and the city botanical garden. Music and art events here are most often attended by members of the Yekaterinburg art scene (artists, curators, art historians, students of art universities and colleges) and representatives of the art community from other cities.

This place is hard to reach for casual viewers, but very important for the professional community. Employees of museums, galleries and clubs in Yekaterinburg, who create projects for a wide audience, can discuss art in a professional circle on this informal platform. They come up with new ideas, develop their theories and exchange experiences with colleagues. The house is located on a small plot with trees, and often actions and meetings take place in the yard under a pear tree, next to a fireplace and barbecue.