~ shame on you! on tour .7
/ Izhevsk, July 21, 2021
. Izhevsk: TsSDR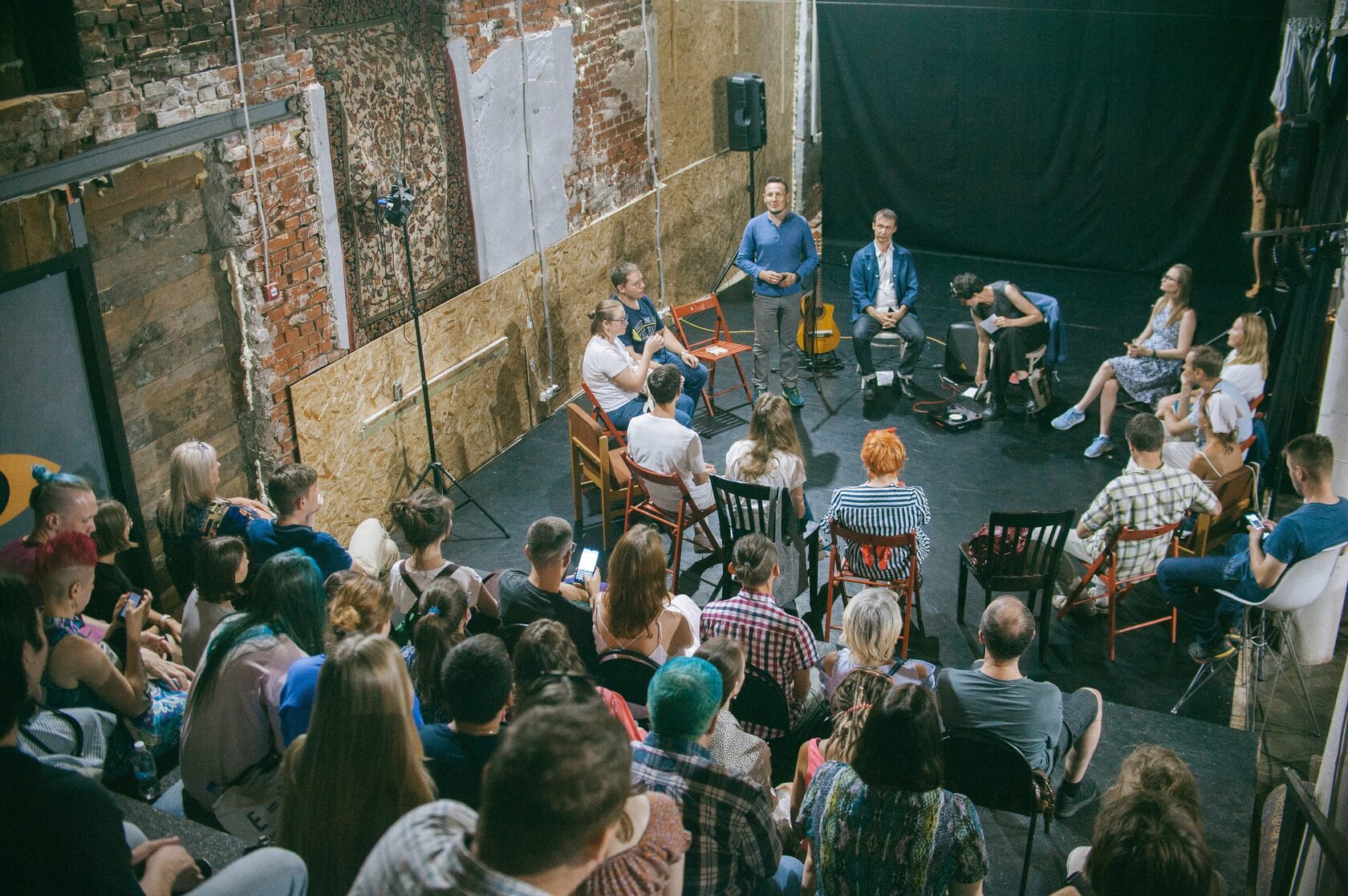 Photos: Alexander Shklyaev, TsSDR


The next chapter of our diary is devoted to the performance at the only theatrical venue for the entire tour – the TsSDR Center for Contemporary Drama and Directing. Ilya Komarov described how the first performance in the theater went:


" We arrived at the TsSDR at five o'clock. We met with Inge Zorina. Trixa was able to practice her French with her. Inge, in addition to working at the TsSDR, teaches French. Then Pavel Zorin, director of the Center for Contemporary Drama and Directing, approached. I liked the place, good acoustics, everything is very compact, a hall with an amphitheater and a stage below.

Before the performance, we had time to go to eat "perepechi". People began to slowly gather and by 7 o'clock there were more than a hundred people. For the first time in the entire tour there was such a large audience. On the stage, we organized a circle of 20 people, and the rest were placed further and on the podium. The space was completely filled with people.

The audience actively participated in the performance: there were many questions and discussions. People shared their observations regarding the stories being told. Kirill noticed that the atmosphere was magical. Everything lasted until nine. Since our train to Nizhny Novgorod left around midnight, we had to hurry. We went to collect our things, and then have dinner at the Moon and the Turtle – a pan-asian restaurant. Pavel and Inge and a couple of other guys from Izhevsk joined us there. Over dinner we had another discussion. It's been a wonderful evening. Having embraced on the railway platform and said goodbye to Natasha and Kirill, we went to Nizhny Novgorod! "
. TsSDR Center for Contemporary Drama and Directing


The TsSDR in Izhevsk is the theater of the new generation that is freely available – readings, performances, discussions and performances every week. TsSDR is the first independent theatrical community in Izhevsk, uniting and supporting several theatrical, educational and artistic projects.

The main residents are the Les Partisans Theater and the IRZ Theatre-Studio, which from September to May show their performances on the TsSDR stage, as well as conduct readings of modern drama, concerts, performances, lectures, poetry evenings. Educational and cultural projects are being implemented on the site, such as the School of Udmurt Dramaturgy, screenings of the Izhevsk Film Club, etc.

The main mission of the TsSDR is to support and develop contemporary theatrical and dramatic art in Izhevsk and the Udmurt Republic.