~ shame on you! on tour .12
/ Saint Petersburg, August 3, 2021
. St. Petersburg: ETO ZDES' / IT'S HERE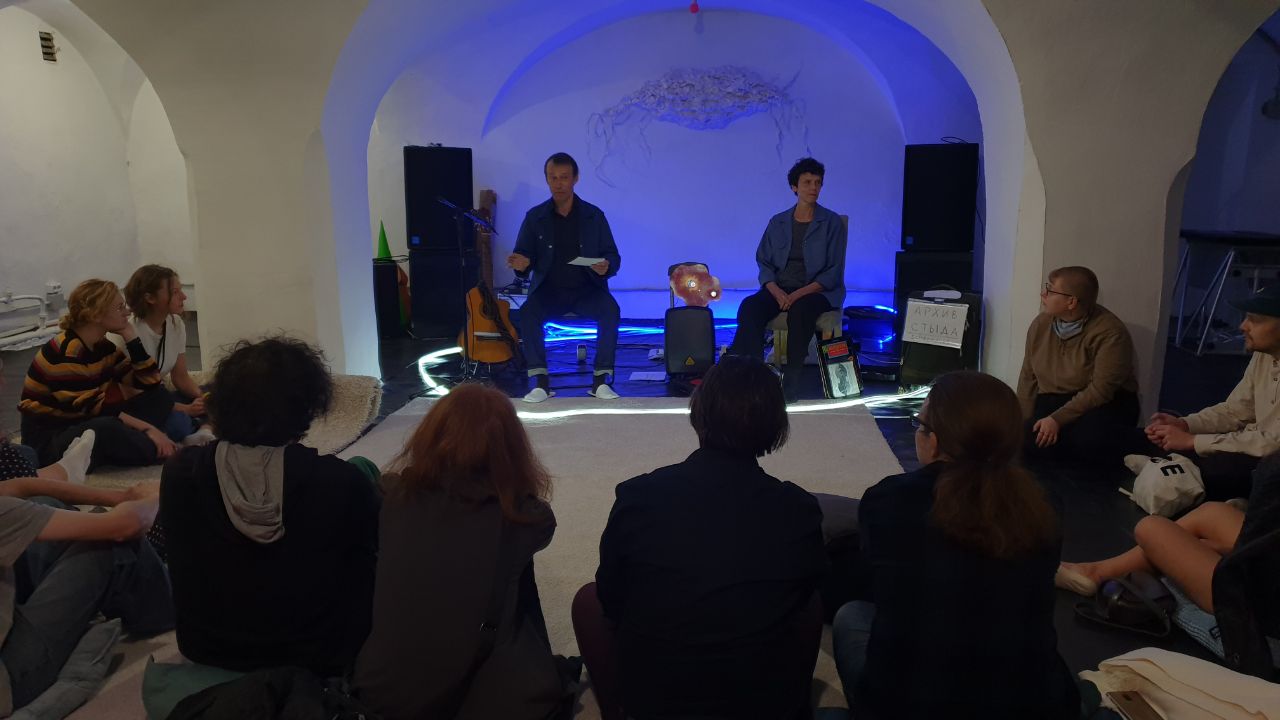 The last city of the tour of our Swiss guests is St. Petersburg, close to them, here in the late 90s they regularly performed with their group, and 20 years later they came to show a performance in a space called IT'S HERE. Below is a note by Ilya Komarov about how it was:


"We arrived from Moscow to St. Petersburg in four hours by Sapsan. We decided to figure out what a Sapsan is. It turned out that this is a breed of birds – a peregrine falcon. St. Petersburg met us with rain, got to the apartment by taxi. Toward evening, the rain stopped and we decided to take a walk – we reached the Fontanka, we wanted to find a place for our performance. But the site called IT'S HERE is hidden very well, by that time it got dark and we could not find it in the yards. The next day was free for us: it rained for almost a day, but we got out and met with our old friends. We also spent the day of the performance on walks, and in the evening we found our site. The place is quite interesting: a two-story building with a courtyard. It is not at all easy to get into the courtyard, the gates are closed on both sides. The building, in principle, is empty – progressive youth settled in it. Someone lives there, someone works in its art workshop. There is a playground with a small bar in the corner and a couple of sofas. Almost every day something happens there: performances, lectures, workshops, concerts, dance classes, yoga and much more.

The site team greeted us with tea. We arrived an hour before the start, so we quickly set up and by 7 o'clock were ready to start the performance. About 20 people gathered for the performance. Before entering the room, you must take off your shoes, since the floor is covered with carpets. I accidentally had white slippers from the hotel in my suitcase, they just came in handy. The atmosphere during our performance was very friendly. People were not very active, but they got involved in the process – they told stories, shared them in our "cloud of shame", and after the performance, they talked for more than an hour on all the same topics. Going outside marveled at the beautiful sunset and the rainbow across the sky. There were also two of our old friends, with whom we dropped in on the way home to drink Belgian beer. With that, our evening ended.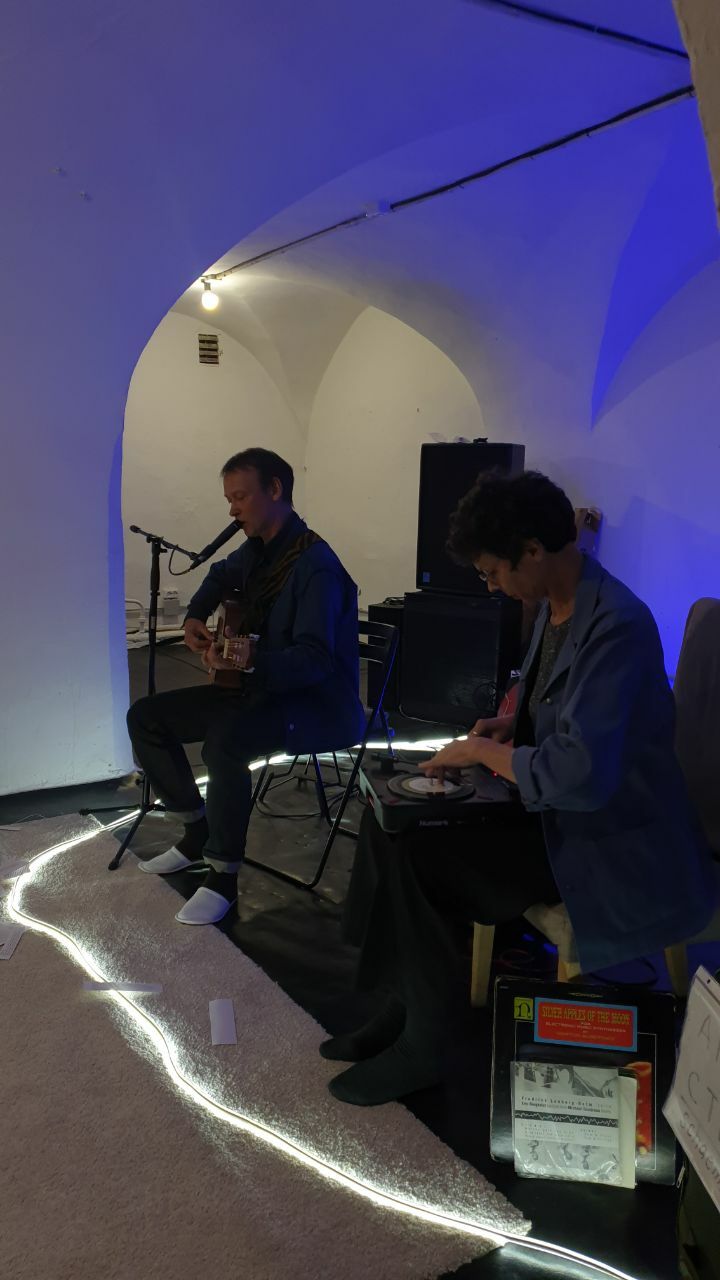 Thanks to Ksenia for the warm welcome and beautiful photos! And thanks to Masha for organizing it, it's a pity that we didn't manage to get to know each other personally, she had to go to Moscow on business, but maybe next time! "
Photo: ETO ZDES' / IT'S HERE

. ETO ZDES' / IT'S HERE

In St. Petersburg, the performance was accepted and supported by a self-organizing space – IT'S HERE.


" IT'S HERE is a cultural transit of a transdisciplinary exchange of experiences in the formats of: laboratories, seminars, concerts, exhibitions, lectures, performances, jam sessions.

We exist at the intersection of the private and the public, experimenting with modes and forms of cultural production, work/recreation and representation.

Also, we draw attention to the importance of supporting trans-local projects that create interaction between regions, countries and initiatives. This is a place of synthesis of artistic intuitions, situational forms of knowledge/practices, as well as queer/trance/fem ethics and aesthetics. "


The shame on you! perfomance became a part of the program of this place.