~ shame on you! on tour .6
/ Izhevsk, July 19, 2021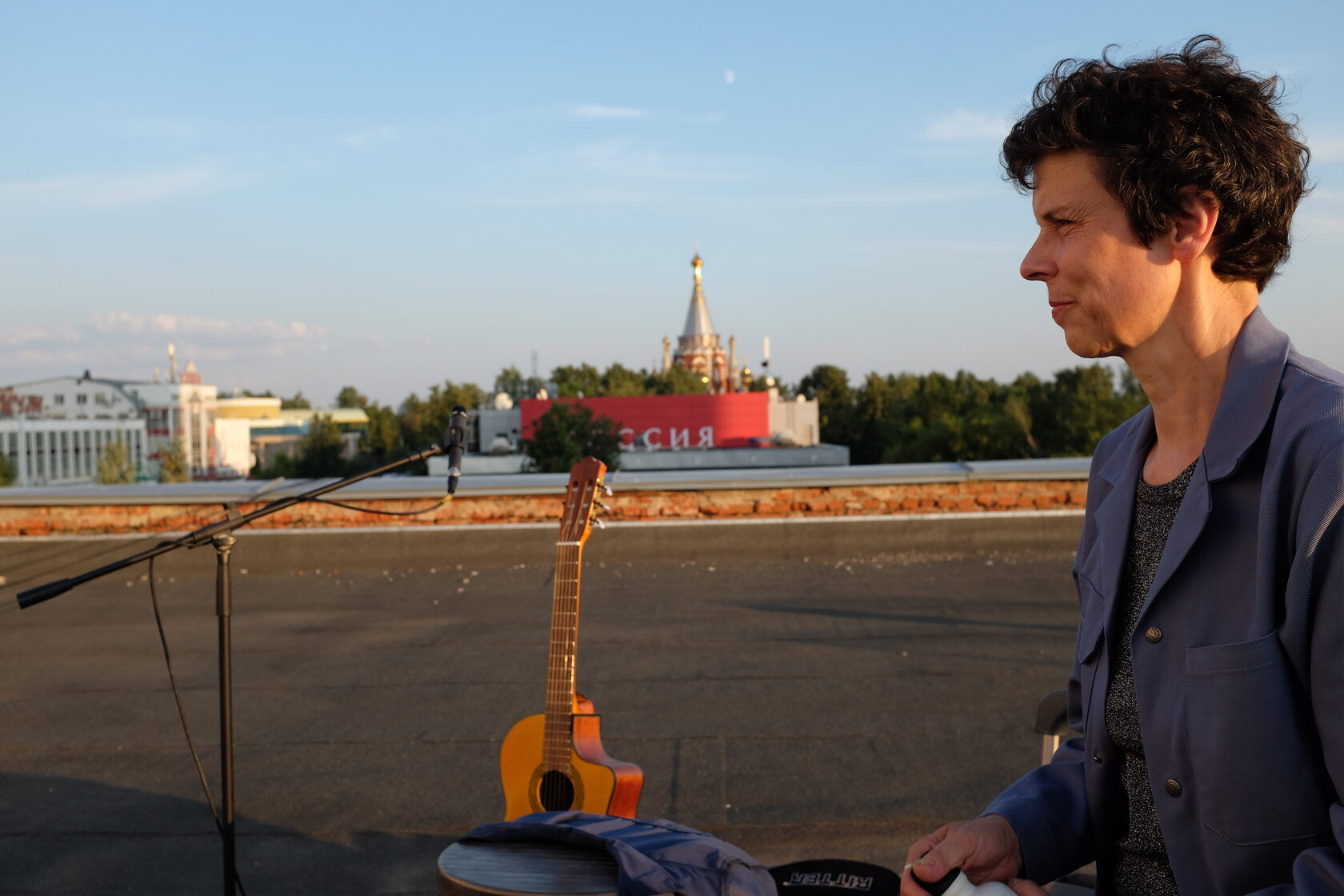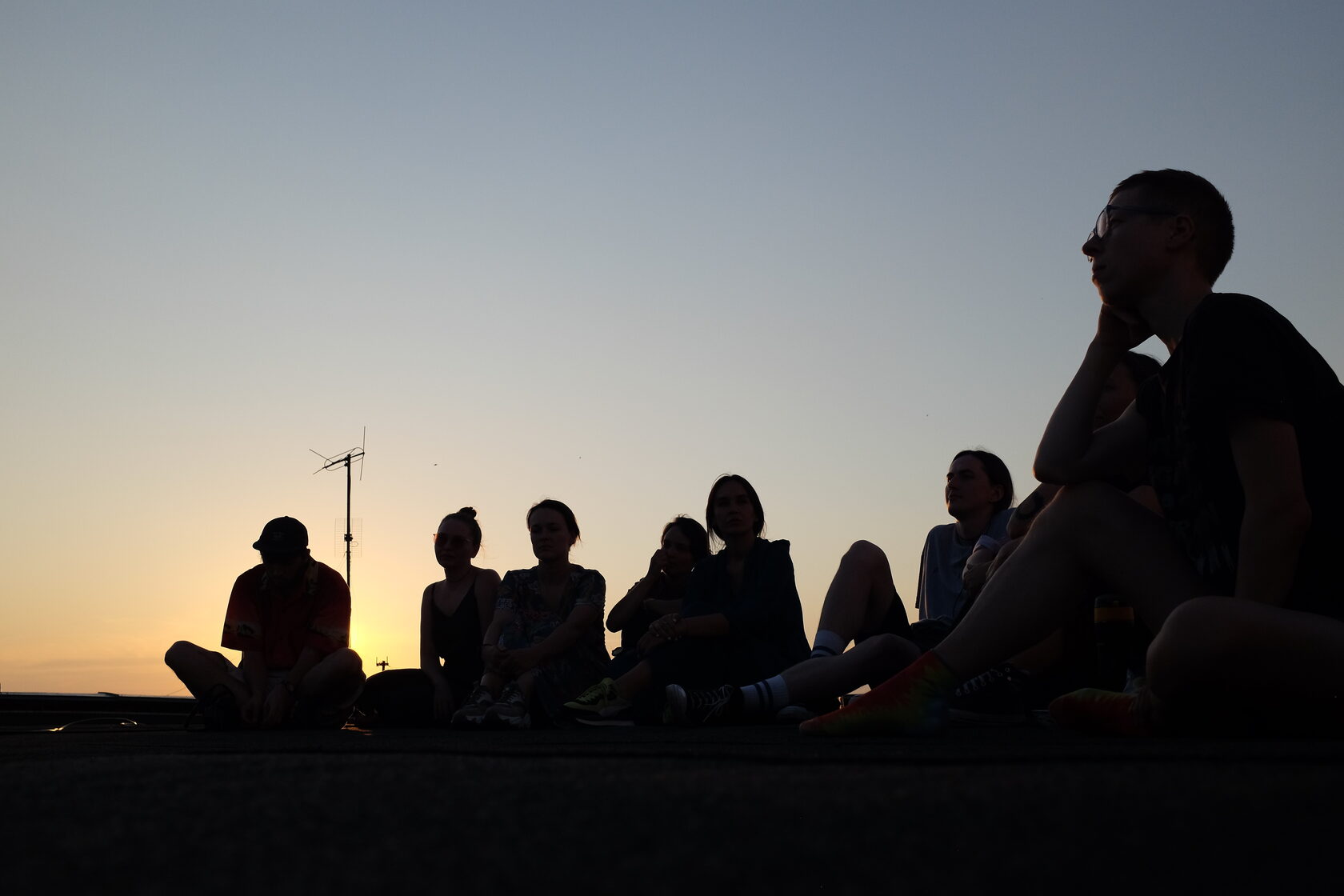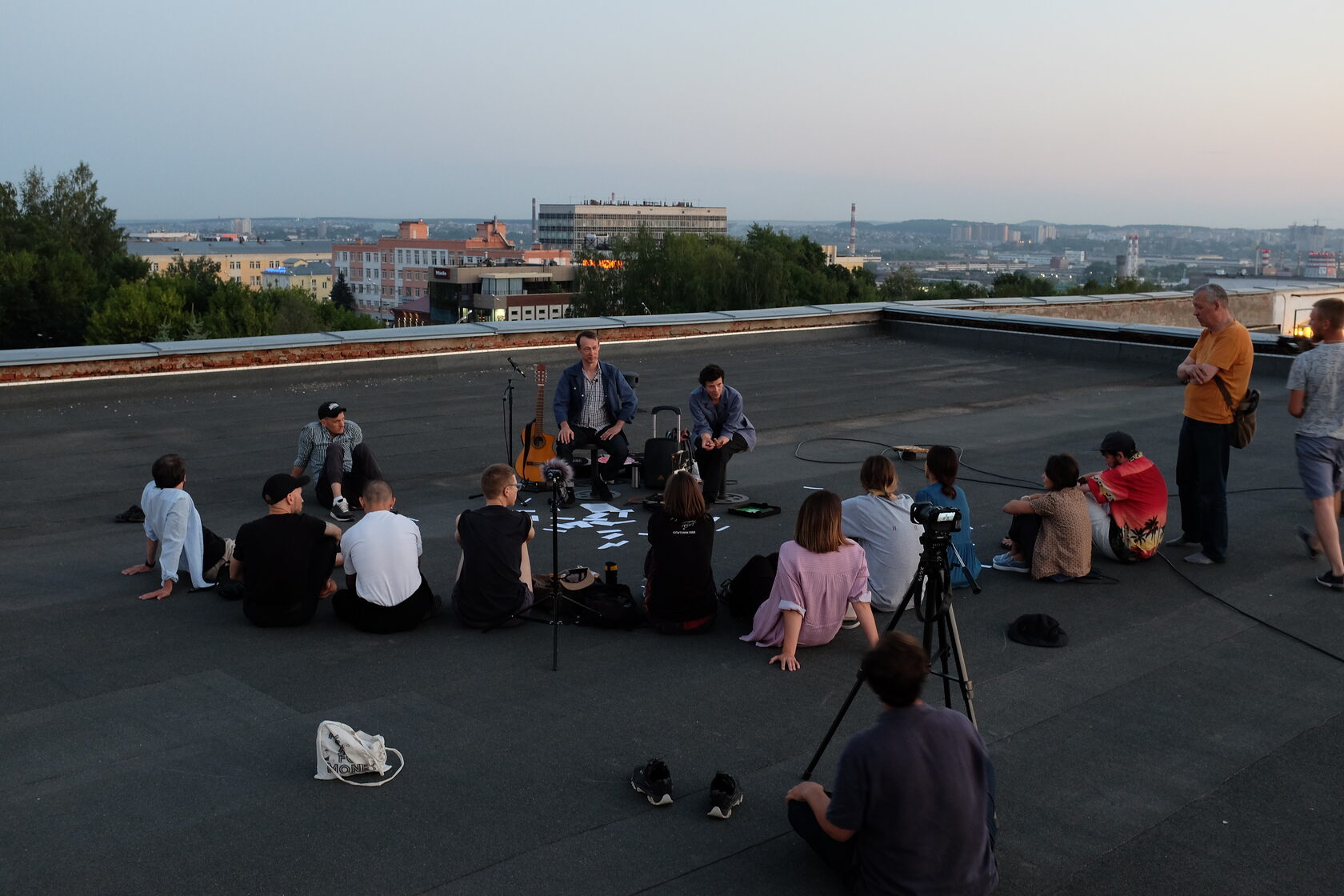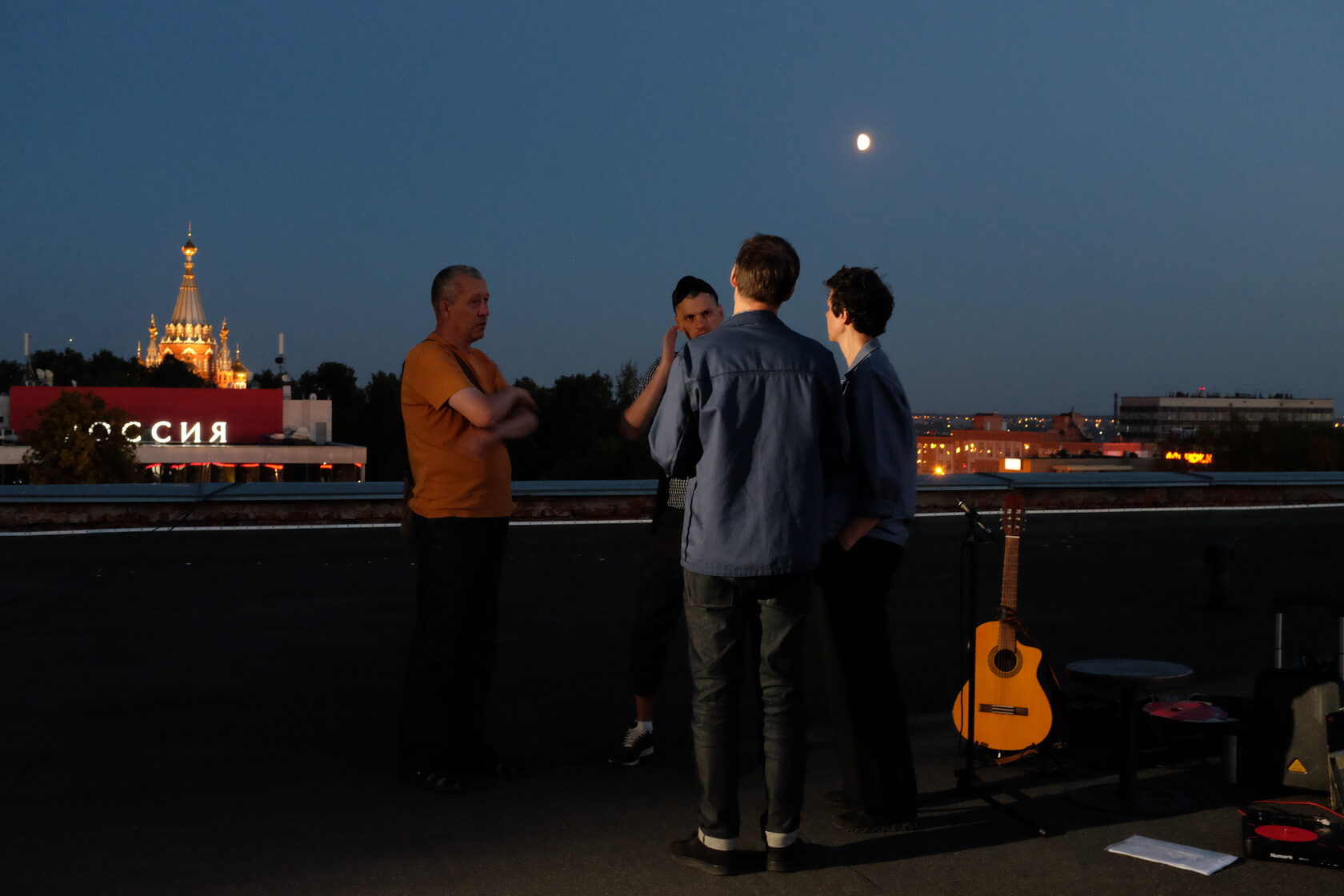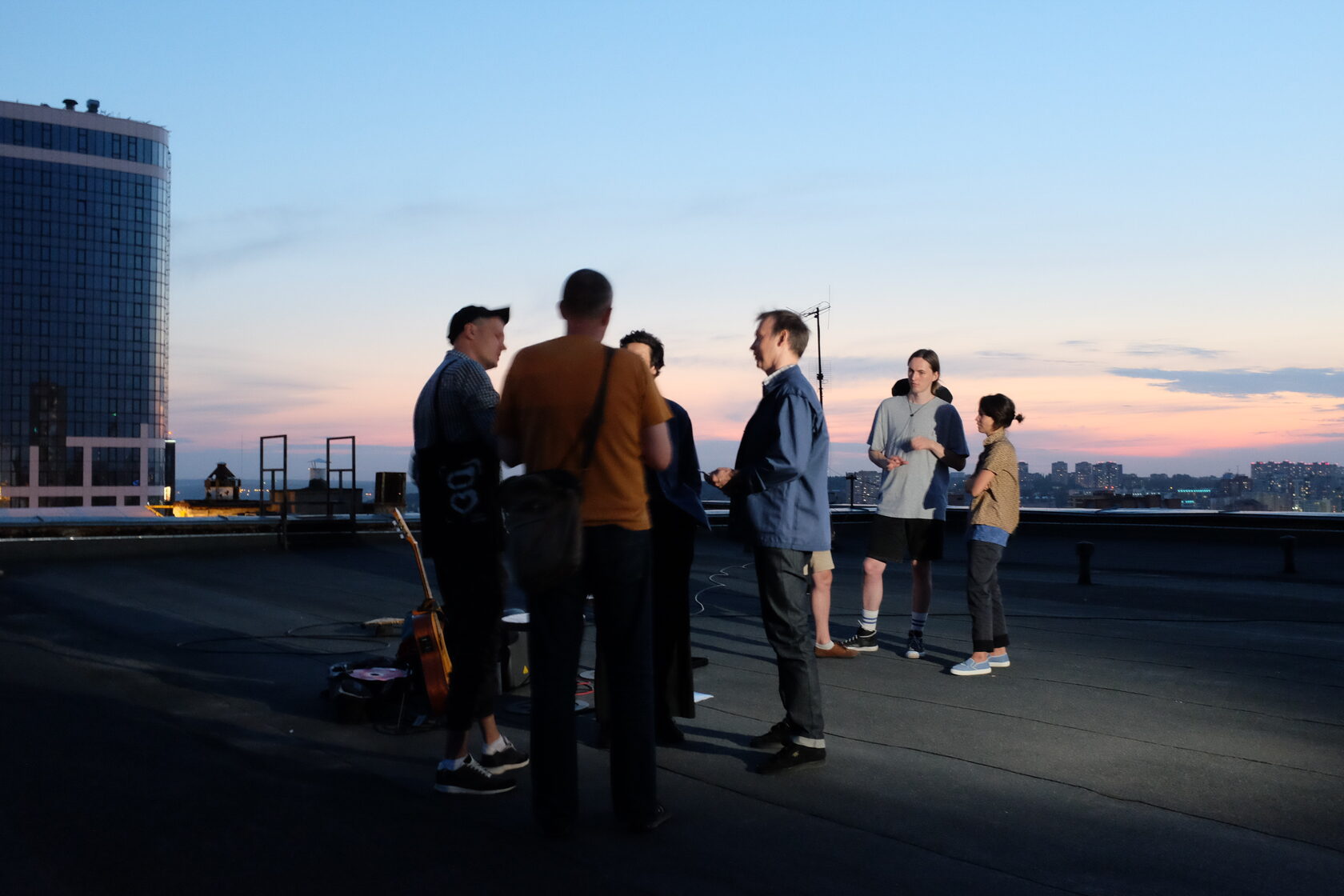 Photo: Kirill Agafonov

. Izhevsk: performance as part of the Noisy Wed Philharmony project on the roof of the Metallurg Palace of Culture

We continue to publish Ilya Komarov's reports on past performances. The first performance in Izhevsk took place on the roof of the Metallurg Palace of Culture, here is Ilya's notes about how it was:


" From Sep to Izhevsk we took a taxi without incident in 2 hours. We were met by Kirill, who himself had just arrived from the north, from Apatity. We checked into the apartment and went to watch the venue for the evening performance – it was on the roof of DK Metallurg. It was hot. Closer to the beginning of the performance, by 20:00, 15-20 people gathered. The sun set, the heat subsided, and we started the performance. We had two chairs, everyone else settled down as best they could. Sitting on the floor for more than an hour is quite tiring. There was a certain distance that we could not break. Maybe something more intellectual was expected from us, I don't know, but there was no long conversation.

A couple of people shared stories, but most left immediately after the performance. We had an interesting conversation with the few who remained after the performance. One young man, I think a journalist, noted the literary merit of the texts. Some moments seemed quite poetic to him. And he, in a subsequent conversation over dinner, noted that the texts would be more convenient to read. Because when someone reads them, you do not have time to follow the content. Be that as it may, I once again noticed during this tour that no matter how the performance goes, it leaves a mark, a dialogue arises, new thoughts and not only on the topic of shame.

And the next day we went to Zoya Mikhailovna (Lebedeva – approx.) in Buranovo, and visited her personal museum, which was very very interesting. We swam in the local lake, and now we are resting at home before the interview at the Drunken Rabbit bar. "
~ the shame on you! performance filmed by Noisy Wed Philharmony
. Noisy Wed Philharmony

The Noisy Wed Philharmony project by Nikita Smorkalov has a variable location – performances by musicians and artists are integrated into the urban environment. Each time the space is chosen based on creative need and external circumstances. As a rule, these are venues not originally intended for performances. The status of a stage or public space appears at a place during an event, which often takes place without the participation of the general public. It is turned into a short film and then broadcasted outside.

Musical performance as part of the tour shame on you! conceptually resonates with the Noisy Wed Philharmony in that the unexpectedness of the location echoes the process of the emergence of secrets and the manifestation of new functions in the citywide area.